Meet the Logistics Team
At Middlesex London Paramedic Service (MLPS), our dedicated Logistics Team works tirelessly behind the scenes, 24/7, to support our frontline Paramedics who provide top tier pre-hospital care to the communities they serve in.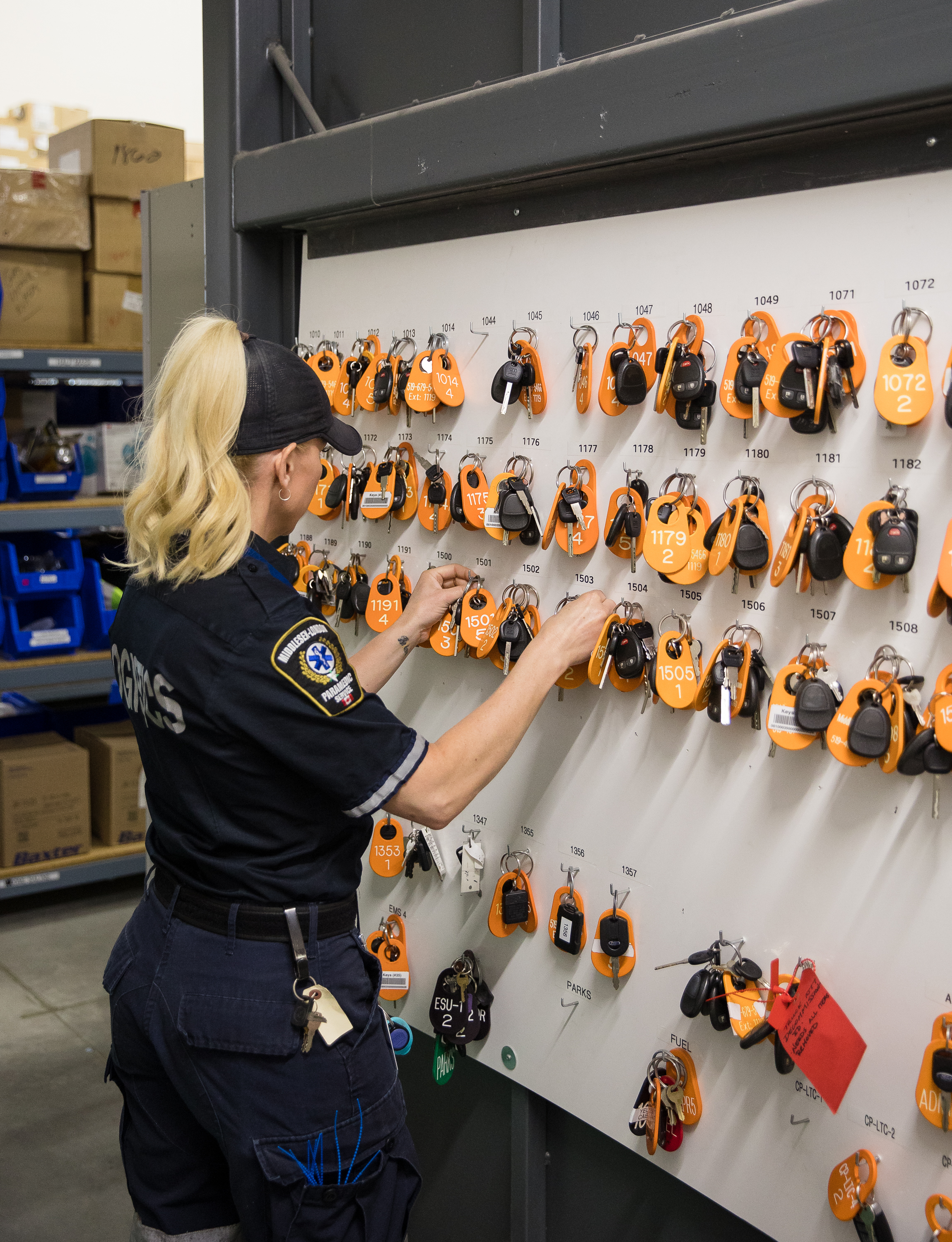 Logistics Technicians (LT):
The Logistics Technicians routinely inspect, clean and restock all vehicles, bags and bins, to have them ready for the next shift of paramedics going out to respond to emergency calls.
They perform routine maintenance on all equipment, such as cardiac monitors, power stretchers, stair chairs, scoop stretchers, oxygen equipment, suction equipment, glucometers, extraction devices and other patient care equipment.
They are such an integral part of operations here at MLPS, not only for the 911 Response System but they provide support behind special events held throughout the year.
Did you know?  The LTs ready approx. 1000 trucks every month; that's an amazing 12,000 trucks per year! 
Logistics Officer:
Working alongside the Logistics Technicians (LTs), the Fleet Officer take care of everything vehicle-related, from vehicle set up and customization, ongoing maintenance to overseeing the decommissioning of ambulances. In accordance with Ministry of Health, Ministry of Transportation and manufacturers' requirements, the Fleet Officer maintains, repairs, and tests equipment. The
Logistics Officer also addresses facility maintenance and repairs at all MLPS stations.
Did you know?  Over 2000 assets inspections are completed and documented annually!
Inventory Purchasing Officer
The Inventory Purchasing Officer manages the inventory ordering process and ensures stock levels are maintained. The Purchaser also conducts periodic audits on our inventory items to ensure all expiry dates are pulled in accordance to MOH and Service standards.
Logistics Administrative Assistant
The Logistics Administrative Assistant maintains database records including PPE sizing for each paramedic, uniform sizing and issuing, office supply orders and entry of assets in our tracking system. Administration also reconciles all expenses and ensures all invoices are paid accurately and on time.
Meet the Fleet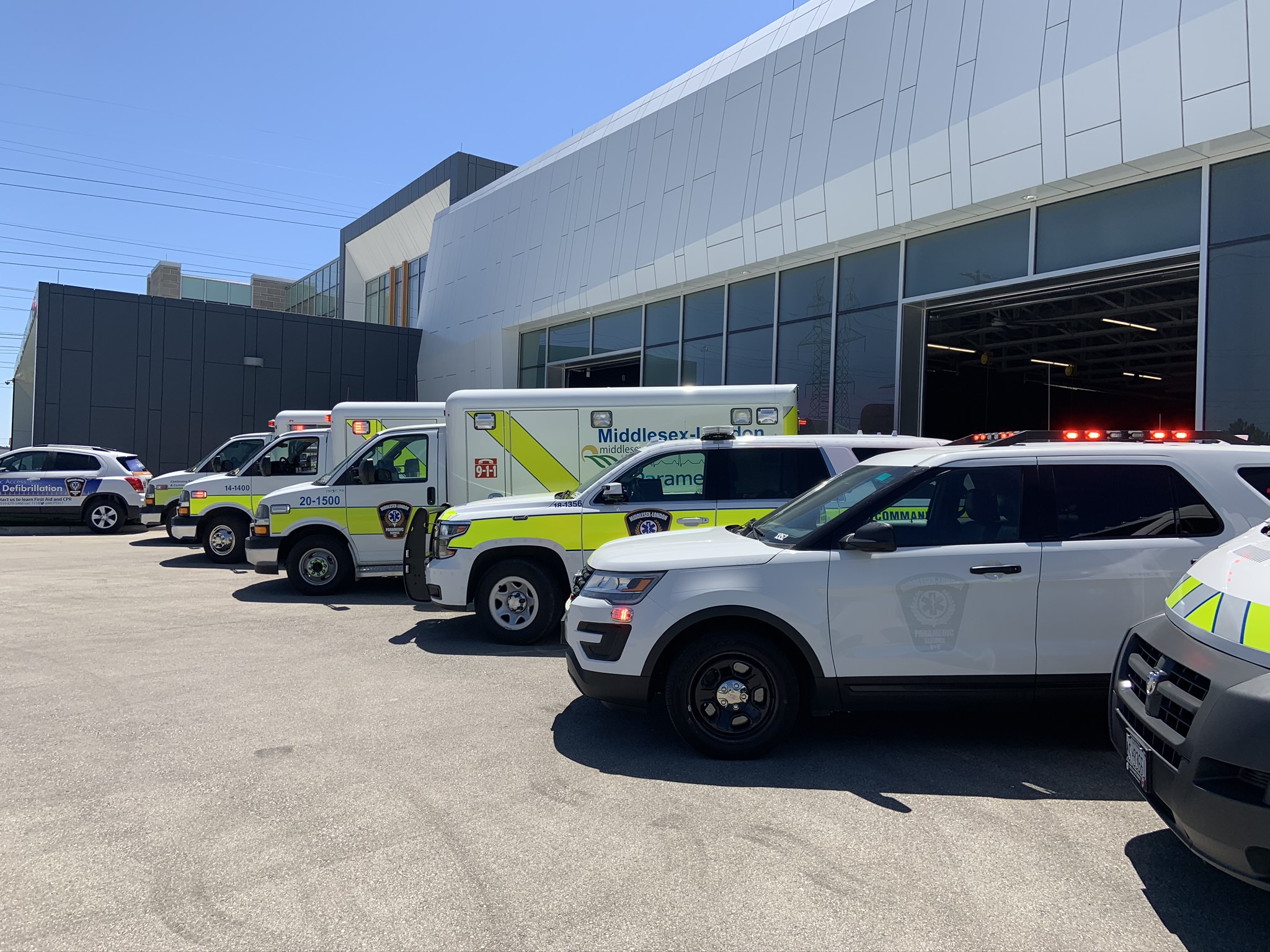 Ambulances
51 ready to respond patient transportation units
 
Command Units
5 SUVs designed for Operation Superintendents to work alongside Paramedics out in the field.
 
Paramedic Response Units
4 first response units staffed by Advanced Care Paramedics to increase the response time to an emergency 911 call.
 
Community Paramedicine Units
4 SUVs deployed into the community to help treat patients at home and support various clinics.
 
NICU Unit
Utilized for the safe transport of critical neonatal, infant and pediatric patients to and from Children's Hospital in London.
 
Bariatric Transport Unit 
Utilized for the safe treatment, loading, unloading and transportation of bariatric patients (maximum 700lbs) to hospital
 
Special Operations Bus 
This specialized paramedic bus is deployed to large scale incidents and special events such as COVID-19 immunization clinics.
 
Emergency Support Unit (Trailers) 
Utilized to re-supply paramedic vehicles in large scale events and disasters. For incidents or planned events (CBRNE, portable shelters & hospitals, MCIs) these trailers are able to supply Paramedics with additional supplies on large scale calls so they don't need to leave scene to restock or to obtain specialized equipment.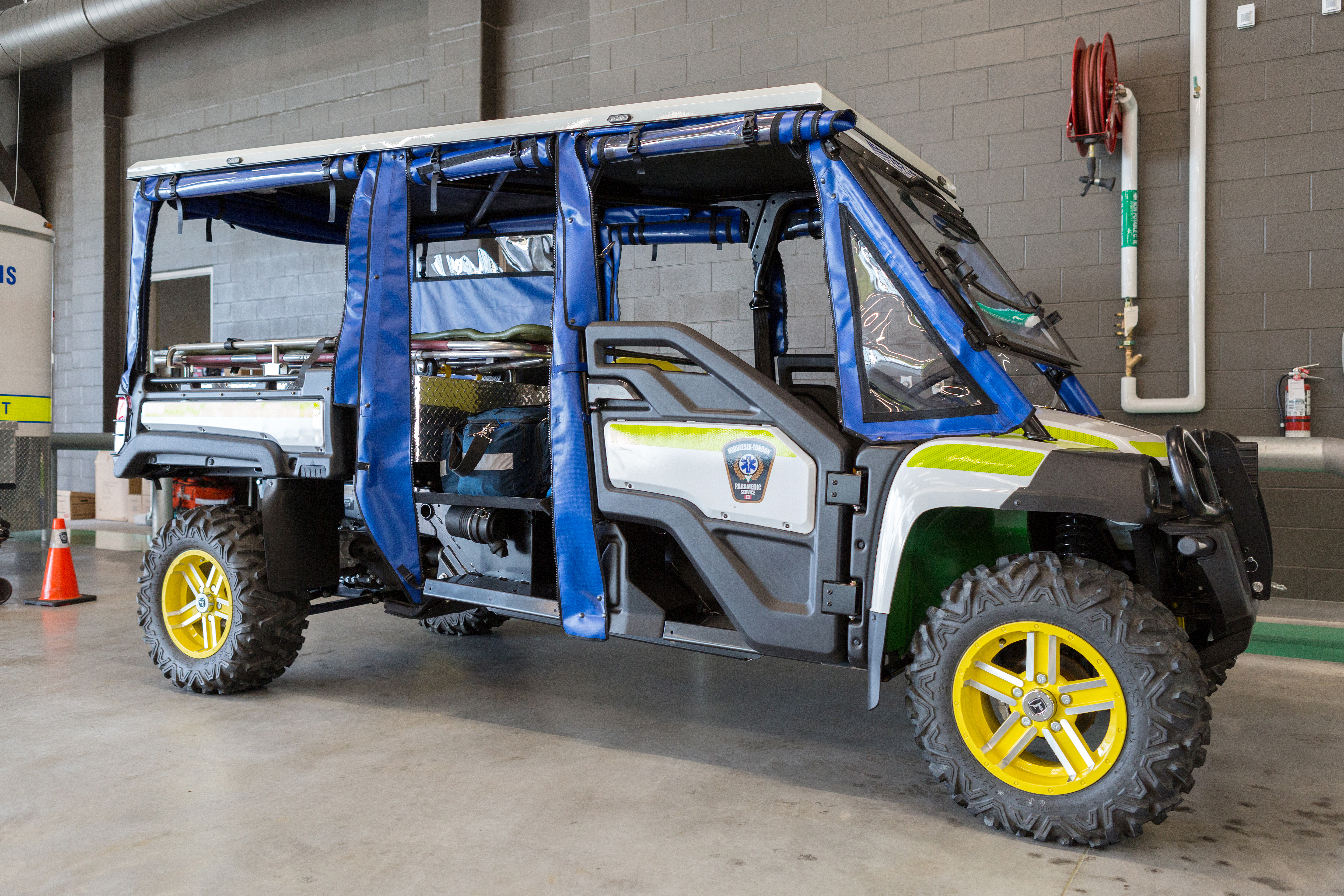 Gator off-road vehicle deployment 
Utility Vehicle (ATV side by side) used for special events, off-road locations and search & rescue
 
Administration
3 SUVs utilized for administrative duties.
 
Bikes
4 specialized bikes utilized by paramedics to provide response at special events